DAZU IS SO
ROCK
LAR.
Guo lao shi is so cool lar! LOL. Sitting opposite Melody is a tragedy. Haha.
Anyway, I am so nice too, I'm sacrificing my time of studying my History, Maths and Chinese tests to blog! (I learned this from Shirlene.)
Hong Lou Meng is seriously a nice song.. Eeeks I don't like to play Mang Chun cause of all the plucking.. almost got lost then kept looking at guanyang's fingerings at one part.
Cally don't be nervous of sitting in front next week x) Sitting in front is so fun lar, cause you can see Guo lao shi! LOL actually you can see him doing the waving conducting thing then you will agar know the pai zi. Thank me for comforting you. Btw you owe me $1. Haha. So nice to get money from you.. heh.
I have shanyin later. I bet my lesson will start half an hour later. Haha.
whoo! my first post here.
yay! we survived our first ever da zu! ok.. it was quite fun, and nice, cos we were part of the music! haha. anyway, we must jia you!! going china already, must perform very well. cos 'its CHINA, where CO originated, not indonesia'. hahaha. must practise and play well and maintain dhsco's standard!!
go go go!!
jia you jia you jia you!!
-JiaYin
haha!!..long time never see dyb website...now got so many nice pics and posts!!...
me..as usual..being a nice senior..is sacrificing my chem...which is quite rotten currently...even though got chem test tmr...to post an entry...haha...whatever crap i m talking abt..recently got so many tests until i blur liao..
anyway..just want to tell the sec 2s and 3s...enjoy dazu!!!!!!....that will be the thing that u will miss most from dhsco...other than dhsco and me this cute senior of course...haha!!!!....and for the sec 4s that are going for china trip...must work hard for the trip!!..cos really really really really really (x 1 billion times) the last performance liao...must treasure it!!!...aiyoh..basically..those who are going to china trip must jia you lah!!!...and happy bullying vincent!!..haha!!..
bleah..must get back to my chem liao...shall miss dyb...cannot go back to dhs to see u guys soon!!...bleah!!!!..dun miss me too much k?? =)
Shirlene
Okay we, the sec twos got our
HONG LOU MENG
scores today.
I arrived at 4.45pm or something cause I had some Leadership Camp. (LOL "We're going to make leaders out of you!")
And Hanyin and me were so pro we learned the whole song in 10 minutes. I was tutored by JY. Okay I admit that at the "F# D B ..." I totally flunked it. And I'm still blur up till now :( Must go practice more. It must be that fact that JY is not a good teacher. tsk. :D
OH and I'm going to shanyin tomorrow to purchase my A string. LOL why my A String always break :( No Amelia, its not a
G String
(:)
Thanks to Xingzhong who lend-ed me your cello.
Ok thankyou byebye this post is lame.
Clarfication: Xingzhong I am NOT going to China.
Although I seriously want to. But nevermind.
I liked today's fenzu. 'Cause I think that hong lou meng is a nice song. It was my favourite song last year when I attended the concert, wayyy before our first official fenzu started. So that should prove that I am not biased. I just like the song. Especially the starting of the song.
I seriously did not want to miss fenzu today, I was looking forward to it when suddenly I remembered that there was that leadership camp thing. Talk about leadership
talk.
But I still managed to attend one hour of fenzu, in which mayping and me managed to learn what Cally and JY learnt for the previous two hours. It was quite successful, minusing all the yin zhun and constant confusion. But Cally and JY also helped out quite a bit. Thanks hor.
Oh yar, when ya'll go China must remember to take photos and post it up here okay?
I'm looking forward to dazu.

Although I'm petrified at the thought of the conductor scolding me.
.::Hanyin::.
Went to shang yin todae as usual. GET TO SEE ANOTHER JUNIOR!!!! HAHAHAHA!!!! her lesson is b4 me de... and tian lao shi told me after she left that the sec 1s this year quite fast... the sec 1s learning da ba wei liao lei!!! pro pro... but they also should b pro la... since they all the leading batch for the syf after guanyang's batch...

-cally =P

lalalala
heyhey
xingzhong is here. got miss me anot? nthg to do so come and post. dhsco is gg china, so excited hahaha, so many seniors gg, so far cello is
vincent
lydia
joey
amelia
zhiying
me
guanyang
shaoyu
geneve
cally
jiayin
mayping
hanyin
total 13 of us, unlucky no. ya? hahah jokin, can some1 join to made the no. lucky?
bass will be
zichun (v old senior)
emily
jiayao
hahahah Confucious say b4, SAN1 REN2 XING2, BI4 YOU3 YI4 SHI1
that mean when 3 go tgt, 1 will go missin...hahah jokin...so some1 go too la, make the no. nicer too....hahahah
total is 16 of us, Its a perfect square hahaha....nvm v lame....
lets jiayou hahahah less than 2 mths to CO trip....have u apcked ur luggage?
helllooooooo!
dorea the great is here! =D
im glad to see so many sec 2 cellos going for china trip! bah, i wna go too... =[ so sad! nvm u all must have a fun time and enjoy urselves! damn damn damn fun one!
oh ya. rmb to SHOP and SHOP and SHOP till you DROP! dun be dumb like me, last time go china, wanted to save till the end to splurge, but then
they cancelled the final shopping trips!
so i came back with 75% of the money i brought there still. >_<
and dun keke tink very cold leh! the first day we went tehre wah, like natural aircon like that. but then, at the end of the trip, it was
blistering hot
! be prepared! haha.
ok im basically talking crap here. got maths test tml! boohoo and im not studying yet. aha!
haiyahhh where are the basses! go to china! =D
hoho talking abt sports day
our dearest vincent took part in the VJC cheerleading competition for our sports day (as in really cheerleading, with half naked girls and frilly pompoms). haha yeah anyway u can imagine how hard i was laughing in the stands. they won 2nd btw. out of 6 houses. haha. but i dont credit him. i credit the person who cheorographed the steps. LOL!
lydia
Heyheyhey,
Today Cally's competing in the shotput event for our school on Sports Day.
JY: Yeah, Cally GO!Liqin: I will throw flowers to you.Cally: You see if you can throw flowers so far till it lands in the field first. If you can, you can go join shotput yourself!
Yeah Cally! Go for 20m! GO GO GO CALLY!
We'll all be supporting to you!
XZ, i still don't see the photos!
.::Hanyin::.
HEHEHEH
HEY XINGZHONG THE GREAT HERE....check out PHOTOS...got nice stuffs...i do 1 leh....touched anot? hahah check it out...stay cool, sec2 n 3s jiayou
xingzhonguridol
in celebration of this year's sec2s first fenzu/dazu session....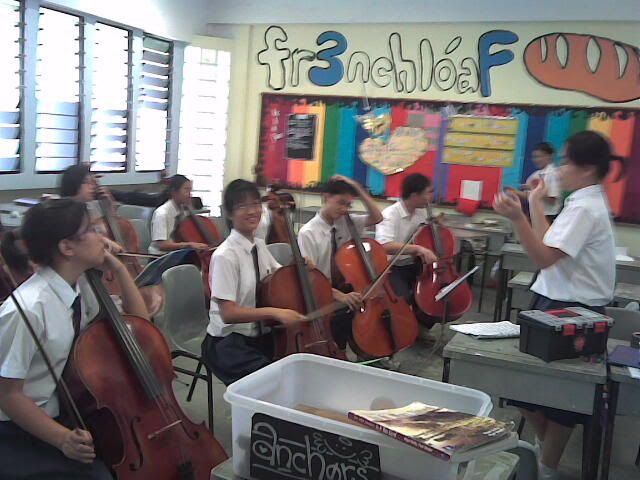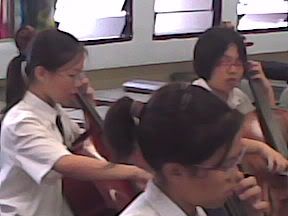 hey i miss the anchor box. i miss the anchor with the pink rafia tied around it. LOL.
-lydia.
*dont let this blog become stagnant!!!
china trip
hey dyb! just heard from tL that response for china trip very low. everyone go leh!! especially cally (cos xingzhong is going), and mayping (cos vincent is going).. haha! yeah and of course, i should be going, and everyone loves me. =D
and if any seniors want to go, here are some details:
date: 1.6.06 - 10.6.06
venue: bejing, shenyang, taishan, jinan, some dalian place, etc
cost: $1300 plus
and if u all really confirm cant go, at least start persuading other dybians to go! guarantee damn fun (cos got me)!
-lydia
dhsco concert
LAST SATURDAY WAS DHSCO'S CONCERT AND IT ROCKED. BOTH SESSIONS FULL HOUSE LEH. HAHA CO ROCKS.

Nice picture on top which I found on a dyb senior's blog here. The dyb performance wa fabulous, haha! Me and JY were shocked that Vincent can play the piano so well. I'm still recovering from it btw.

All the songs are great and me and Jy were having fun imitating Kiang Gei wiping the timpani to wipe out the sound. And Yigang(is this the spelling?) from djy broke his thumb or something like that.

I lazy to say more lar but anyway, it rocked. Some crappy photos here at Lydia's blog.

DYB SENIORS!




Janice, Hongbin and Geneve. If I'm not wrong, Yunxuan is behind Hongbin. You can see half of Amelia. (Detailed description right?)



Amelia and Zhiying in front, Geneve and Jiayao behind. Aiyo so many Amelia :P


The above photo was again kup from the pinkified senior. Yes I think that she should blog more about dyb so we can kup more photos.
- MP(:
gongyan!
gong yan was a success! congrats everyone! =)
i uploaded photos into the freewebs account. whoever's free (*coughmaypingcough*) can go and put it up nicely on the photos page. for other nonsense photos can go my blog and kup. (suddenly-i-see.blogspot.com)
DYB is short for Di Yin Bu, chinese for Lower Strings Ensemble. We are the cellists and bassists of Dunman High School Chinese Orchestra Singapore. In 1994, we left
the di deng yue zu
the String Ensemble (Hus) to form our very own DYB! We are guided by teachers Mdm Tian Ling and Mr Lee Tsu Hock, and conductors Mr TTK and Mr Quek Ling Kiong.
(More...)
DYBians are known for their lively spirit and close-knit ties. Even after graduating, DYBians still enjoy returning to our many gatherings, and fenzus/shichengs. Here we will introduce the DYBians of '08, and our lovely seniors/alumni!
2003
| Boon Xin | Camy | Chang Fang | Eric | Ming Jie | Pamela | Yong Hui |
2004
| Wilson | Tessie | Yamuna | Chrystal | Guan Cheng | Ivan | Jason | Ken | Ding Xiao | Tian Tian |
2005
| Dorea | Lydia | Shirlene | Vincent | Zhi Kang | Sh0n |
2006
| Amelia | Hong Bin | Janice | Joey | Xing Zhong | Yun Xuan | Zhi Ying | Rachel |
2007

| Geneve | Guan Yang | Jia Yao | Jun Wen | Shao Yu | Elysia | Eugene | Nathaniel |
2008

| Cally | Celine | Han Yin | Jia Yin | May Ping | Samuel | Wei Wei | Wendy | Yvonne | YingSi |
2009

| Bevie | Charmaine | Kian Ming | Shi Lun | Wen Yi | Xiao Rong | Xiao Zhou | Yue Heng |
2010

| JiaHan | Sheila | Vanessa | XinMin | YanQi | Yu Long | Zhang Yang |

(More...)